28th nov – 1st dec
FESTIVAL PROGRAMME.
The world's resources are limited. But our resourcefulness isn't. Together, we're transforming the way we use those resources. Bringing circularity to life.
We're the pioneers, the movers and shakers, the game changers and trailblazers, the dreamers and the doers. And we're coming together for the must-attend virtual event of the year, The Festival of Circular Economy.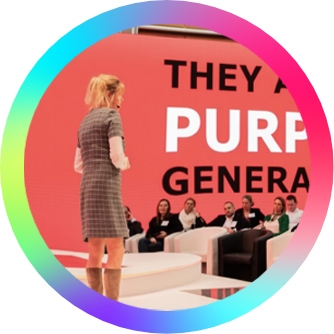 Amazing people achieving amazing things. Sharing, networking, bonding, challenging, collaborating, co-ordinating. Most of all, doing. Creating change. Making it happen. Translating theory into positive, practical action.
Celebrating our successes, learning from our mistakes, taking the circular revolution forward and accelerating the move towards sustainability and net zero. Our agenda covers all aspects of a circular economy, providing a forum for all.
From start-ups and scale-ups to multi-nationals, from government to academia – together we are inspiring, informing and reshaping the worlds' economies.
QUICK GUIDE
Use our quick guide to plan your timetable.
The icons will show you at a glance the format and type of content in each session so you can quickly assess what's in it for you.
CHANGE MAKER SESSION
Our changemakers sessions have been developed to be quick, accessible, practical and engaging. Stimulate your mind and hear how our change makers are driving positive change for the future.
CIRCULAR INSIGHTS
Our insight sessions have been designed provide bite-sized insights into the trending topics in circularity and sustainability.
SPEAKER MEET-UPS
Our exclusive speaker meet-ups provide an unmissable opportunity to meet with the speakers of the day, ask questions, and discuss projects.
DISCOVERY WORKSHOPS
Our interactive workshops are designed to connect the dots and foster community and collaboration.
KEYNOTES
Inspirational, honest and thought-provoking.
PANELS
Engaging and interactive –
an opportunity to hear a variety of perspectives in one session
CO-LABS AND IDEA SHARING
Meet your peers, share ideas, get advice and get involved!
DAY 1
28th Nov. What now… Designing the circular economy
CIWM WELCOME: A world without waste
Opening Keynote: The future is different
– a circular vision for sustainable growth
We must transform every element of the take, make, and waste system. But what will it take? In this opening keynote, we will set out a different vision of the future; a future that is circular, sustainable and prosperous, creating a thriving economy that benefits everyone and the future of our planet:
What is the impact of the linear economy and why is transitioning to a circular economy is necessary
Explore the economic value that can be created by the circular economy
SPEAKING

Marga Hoek, Global Speaker & Author, University of Cambridge
Panel: Three big questions on…
How to achieve a truly circular economy
The transition from a linear to a circular economy is one of the most important imperatives of our time, a transition that requires a fundamental change in the way we produce and consume. However, the whilst the concept of a circular economy is widely accepted, there's still more talk than action.
In this panel, we will explore the route to becoming truly circular:
How circular is the world today?
What are the barriers to circularity (economic, political, consumer)
Explore the role of local government, business and the waste industry in making circularity a reality
SPEAKING

Connor Bryant, Co-Founder, The Rubbish Project & The Rubbish Idea
Matthew Fraser, Head of Research & Development, Lead of the Circularity Gap Reporting Initiative, Circle-Economy
Joel Tronchon, Head of Sustainability, L'Oreal
Wayne Hubbard, CEO, ReLondon
Changemakers session: the big fashion redesign
Changemakers believe anything is possible. Our changemakers session have been developed to be quick, accessible, practical and engaging. Join our changemakers sessions, stimulate your mind and hear how they're driving positive change for the future.
Panel: Is human behavior the overlooked ingredient in making circularity work?
How does consumer behaviour affect the transition to a circular economy? A circular approach to consumption and production reduces emission and waste in general, but how do we enable people to reuse, repair and recycle more efficiently? In this session we will look at the impact of consumer behavior in the move to circularity:
Identify, promote, and leverage consumer behaviours that support the transition to circular economy
Explore consumer behavioural insights in circular strategies for textiles, plastics and electronics
Are consumers ready for a circular economy?
SPEAKING

Ali Moore, Head of Communication & Behaviour Change, ReLondon
Mariana Nicolau, Project Leader, CSCP
Changemakers session: Sustainable energy and the fight against poverty
Changemakers believe anything is possible. Our changemakers session have been developed to be quick, accessible, practical and engaging. Join our changemakers sessions, stimulate your mind and hear how they're driving positive change for the future.
Henri Nyakarundi, Author, Founder & CEO, African Renewable Energy Distributes
Discovery workshop: Supporting entrepreneurs in the circular economy
Interactive workshop designed to foster community and collaboration. 
Day 1 wrap-up and key takeaways
Details of the Festival of Circular Economy programme and speakers are correct at the time of publication. Please note that, due to circumstances beyond our control, it may be necessary to substitute speakers and/or content, and CIWM therefore reserves the right to amend the Festival programme any time. Should any necessary changes occur, CIWM will endeavour to arrange relevant alternative content and speakers. Any changes will be published on the Festival of Circular Economy website as soon as possible once confirmed.
Be there
or be square.
You're contributing by being there and sharing with us.
We're in this together. Invest some time and energy in being part of the Festival. In the future, for ourselves,
our companies, our children and our planet. You'll find it an amazing use of your resources. We can promise that.
BE A PART OF IT.
The world's biggest challenges
demand the world's biggest solutions…
and this is the start of something big.
Be there at the beginning.
If you're interested in becoming a partner or supporter,
we'd love to hear from you. Drop us a line at
sales@ciwm.co.uk and we can set up a conversation.
1 incredible planet. 1 unique event. Join the celebration!