28th nov – 1st dec
FESTIVAL PROGRAMME.
The world's resources are limited. But our resourcefulness isn't. Together, we're transforming the way we use those resources. Bringing circularity to life.
We're the pioneers, the movers and shakers, the game changers and trailblazers, the dreamers and the doers. And we're coming together for the must-attend virtual event of the year, The Festival of Circular Economy.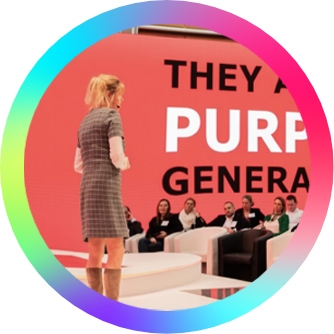 Amazing people achieving amazing things. Sharing, networking, bonding, challenging, collaborating, co-ordinating. Most of all, doing. Creating change. Making it happen. Translating theory into positive, practical action.
Celebrating our successes, learning from our mistakes, taking the circular revolution forward and accelerating the move towards sustainability and net zero. Our agenda covers all aspects of a circular economy, providing a forum for all.
From start-ups and scale-ups to multi-nationals, from government to academia – together we are inspiring, informing and reshaping the worlds' economies.
QUICK GUIDE
Use our quick guide to plan your timetable.
The icons will show you at a glance the format and type of content in each session so you can quickly assess what's in it for you.
CHANGE MAKER SESSION
Our changemakers sessions have been developed to be quick, accessible, practical and engaging. Stimulate your mind and hear how our change makers are driving positive change for the future.
CIRCULAR INSIGHTS
Our insight sessions have been designed provide bite-sized insights into the trending topics in circularity and sustainability.
SPEAKER MEET-UPS
Our exclusive speaker meet-ups provide an unmissable opportunity to meet with the speakers of the day, ask questions, and discuss projects.
DISCOVERY WORKSHOPS
Our interactive workshops are designed to connect the dots and foster community and collaboration.
KEYNOTES
Inspirational, honest and thought-provoking.
PANELS
Engaging and interactive –
an opportunity to hear a variety of perspectives in one session
CO-LABS AND IDEA SHARING
Meet your peers, share ideas, get advice and get involved!
DAY 3
30th Nov. What's next... Sustainability and circularity
Sustainability Keynote: a spotlight on climate and biodiversity
The Circular Economy is a transformative solution to tackle the root causes of global challenges such as climate change and biodiversity loss:
Closing the loop for global emissions reductions
How the circular economy can tackle biodiversity loss
Tony Juniper, Environmentalist, Sustainability Advisor & Author,
Circular insights II: How the Circular Economy could change the planet (title TBC)
Insight sessions have been designed provide bite-sized insights into the trending topics in circularity and sustainability.
Quentin Predignac, Managing Consultant, Circul'R
Panel: Circular economy and the three R's – reuse, repair, and refurbish…
The circular economy isn't just about recycling products; repair, reuse and refurbish are equally as important. In this session, we will explore the importance of the three R's across different industries, as we ask: How can we best extract value?
Explore the market for raw materials across different industries
Consumers, repair and social agenda – How do we turn that into a business?
Examples of re-use capability loops
Moderator:
SPEAKING

Julia Hailes, Sustainability Campaigner and Author,
Lucy Peacock, Head of Preloved Proposition, Ebay
Changemakers session: Turning the world's waste into resource
Changemakers believe anything is possible. Our changemakers session have been developed to be quick, accessible, practical and engaging. Join our changemakers sessions, stimulate your mind and hear how they're driving positive change for the future.
Victor Dewulf, CEO, Recycleye
Panel: Circularity in cities (title TBC)
The Great Debate - Can we recycle our way out of plastics?
Can recycling alone solve the plastic problem? Hear from two opposite camps as they debate whether recycling is the way out of this crisis.
Moderator:
Fleur Ruckley, Associate Director, Wood pLC
Helen Jordon, Senior Recycling Expert, British Plastics Federation
William Awomoyi, Youth Ambassador to the Commonwealth, The British Youth Council
Day 3 wrap-up and key takeaways
Details of the Festival of Circular Economy programme and speakers are correct at the time of publication. Please note that, due to circumstances beyond our control, it may be necessary to substitute speakers and/or content, and CIWM therefore reserves the right to amend the Festival programme any time. Should any necessary changes occur, CIWM will endeavour to arrange relevant alternative content and speakers. Any changes will be published on the Festival of Circular Economy website as soon as possible once confirmed.
Be there
or be square.
You're contributing by being there and sharing with us.
We're in this together. Invest some time and energy in being part of the Festival. In the future, for ourselves,
our companies, our children and our planet. You'll find it an amazing use of your resources. We can promise that.
BE A PART OF IT.
The world's biggest challenges
demand the world's biggest solutions…
and this is the start of something big.
Be there at the beginning.
If you're interested in becoming a partner or supporter,
we'd love to hear from you. Drop us a line at
sales@ciwm.co.uk and we can set up a conversation.
1 incredible planet. 1 unique event. Join the celebration!