28th nov – 1st dec
FESTIVAL PROGRAMME.
The world's resources are limited. But our resourcefulness isn't. Together, we're transforming the way we use those resources. Bringing circularity to life.
We're the pioneers, the movers and shakers, the game changers and trailblazers, the dreamers and the doers. And we're coming together for the must-attend virtual event of the year, The Festival of Circular Economy.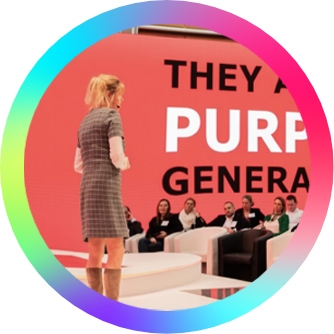 Amazing people achieving amazing things. Sharing, networking, bonding, challenging, collaborating, co-ordinating. Most of all, doing. Creating change. Making it happen. Translating theory into positive, practical action.
Celebrating our successes, learning from our mistakes, taking the circular revolution forward and accelerating the move towards sustainability and net zero. Our agenda covers all aspects of a circular economy, providing a forum for all.
From start-ups and scale-ups to multi-nationals, from government to academia – together we are inspiring, informing and reshaping the worlds' economies.
QUICK GUIDE
Use our quick guide to plan your timetable.
The icons will show you at a glance the format and type of content in each session so you can quickly assess what's in it for you.
CHANGE MAKER SESSION
Our changemakers sessions have been developed to be quick, accessible, practical and engaging. Stimulate your mind and hear how our change makers are driving positive change for the future.
CIRCULAR INSIGHTS
Our insight sessions have been designed provide bite-sized insights into the trending topics in circularity and sustainability.
SPEAKER MEET-UPS
Our exclusive speaker meet-ups provide an unmissable opportunity to meet with the speakers of the day, ask questions, and discuss projects.
DISCOVERY WORKSHOPS
Our interactive workshops are designed to connect the dots and foster community and collaboration.
KEYNOTES
Inspirational, honest and thought-provoking.
PANELS
Engaging and interactive –
an opportunity to hear a variety of perspectives in one session
CO-LABS AND IDEA SHARING
Meet your peers, share ideas, get advice and get involved!
DAY 2
29th Nov. What now… Scaling the circular economy
Design Keynote: Looking back to go forward – the future of sustainable architecture
As the world stands at a crossroad, looking back to go forward can provide pivotal insight into what the past can teach us about our future.
Charlie Luxton, Architect and TV presenter,
Circular insights I: Making circular work for everyone
We must transform every element of the take, make, and waste system. But what will it take? In this opening keynote, we will set out a different vision of the future; a future that is circular, sustainable and prosperous, creating a thriving economy that benefits everyone and the future of our planet:
What is the impact of the linear economy and why is transitioning to a circular economy is necessary
Explore the economic value that can be created by the circular economy
Mike Werner, Circular Economy Lead, Google
Circular trailblazer's panel: how can the circular economy move your business forward?
 Meet the innovators leading the way towards a more circular economy. In this session we will hear how they go the extra mile to help shape the market for circular solutions, reshape market conditions and policy, all whilst scaling up and creating opportunities for investors and business. 
Pranshu Singhal, Founder, Karo Sambhav
Alexandra Rico-Lloys, Co-Founder, The Bike Club
Mikela Druckman, Co-founder & CEO, Greyparrot
Changemakers session: Achieving circularity in construction
Changemakers believe anything is possible. Our changemakers session have been developed to be quick, accessible, practical and engaging. Join our changemakers sessions, stimulate your mind and hear how they're driving positive change for the future.
SPEAKING

Andrea Charlson, Bulit Environment Lead, ReLondon
Panel: Business reimagined – celebrating the circular business model
According to the World Economic Forum, the Circular Economy will be dominant by the 2030s. However, developing a circular business model is challenging, and circularity in business is sustainable only if value can be economically derived from the product. In this presentation, we will set out different strategies for circularity and provide the tools to help you decide which is right for you:
Why you must start adopting circular economy business models now to remain competitive in the future
Explore circular business models for sustainable and competitive advantage
SPEAKING

Lamia Sbiti, Lamia Sbiti, Business Transformation Manager
Changemakers session: What can sustainable design do for the economy?
Changemakers believe anything is possible. Our changemakers session have been developed to be quick, accessible, practical and engaging. Join our changemakers sessions, stimulate your mind and hear how they're driving positive change for the future.
Matej Fegus, Founder, Donar & Green Ambassador for Slovenia,
An opportunity to meet with the speakers of the day and ask questions and discuss projects.
Day 2 wrap-up and key takeaways
Details of the Festival of Circular Economy programme and speakers are correct at the time of publication. Please note that, due to circumstances beyond our control, it may be necessary to substitute speakers and/or content, and CIWM therefore reserves the right to amend the Festival programme any time. Should any necessary changes occur, CIWM will endeavour to arrange relevant alternative content and speakers. Any changes will be published on the Festival of Circular Economy website as soon as possible once confirmed.
Be there
or be square.
You're contributing by being there and sharing with us.
We're in this together. Invest some time and energy in being part of the Festival. In the future, for ourselves,
our companies, our children and our planet. You'll find it an amazing use of your resources. We can promise that.
BE A PART OF IT.
The world's biggest challenges
demand the world's biggest solutions…
and this is the start of something big.
Be there at the beginning.
If you're interested in becoming a partner or supporter,
we'd love to hear from you. Drop us a line at
sales@ciwm.co.uk and we can set up a conversation.
1 incredible planet. 1 unique event. Join the celebration!