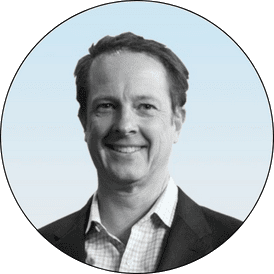 Peter C. Evans, PhD
Peter C. Evans is Chief Strategy Officer at McFadyen Digital. He has held senior strategy at large global enterprises (former partner at KPMG, strategy and analytics at GE).
He has over 25 years of experience leading teams in identifying, framing, assessing, and communicating high-priority marketplace trends and disruptions that support business planning and investment prioritization. Peter has been at the forefront of identifying and articulating significant new trends, including the rise of experience platforms.
He is the co-chair of the MIT Platform Strategy Summit and the NTWRK Summit in Barcelona, Spain. He is a lifetime member of the Council on Foreign Relations and served on the board of the National Association for Business Economics. He is the Lead Instructor at Caltech Executive Education and a visiting instructor teaching platform strategy for three years at Dartmouth College. Peter received his BA from Hampshire College and his master's degree and PhD degree from the Massachusetts Institute of Technology.
Be there
or be square.
You're contributing by being there and sharing with us.
We're in this together. Invest some time and energy in being part of the Festival. In the future, for ourselves,
our companies, our children and our planet. You'll find it an amazing use of your resources. We can promise that.
BE A PART OF IT.
The world's biggest challenges
demand the world's biggest solutions…
and this is the start of something big.
Be there at the beginning.
If you're interested in becoming a partner or supporter,
we'd love to hear from you. Drop us a line at
sales@ciwm.co.uk and we can set up a conversation.
1 incredible planet. 1 unique event. Join the celebration!